When I was checking blogs this morning, I saw that Rinda had posted about something called the Summer of Colour.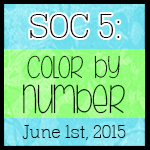 Now, I've seen this pop up on a few blogs recently, so being of an inquisitive nature I had to click on the link she had provided to learn a little more.
Regular visitors to my blog will know that we've been having a bit of a tidy up in our house and there's been a few litres of paint used in the last year while we refresh, declutter and redecorate some of our house. I'm quite the expert on Farrow and Ball paint charts now so anything to do with colour has caught my interest! When I was buying some cushions in a local interior design shop recently the lady who owned the shop told me that no matter how much you like a neutral palette, every room must have at least one pop of colour. Even if it's just a candle!
I passed this nugget of wisdom onto my daughter who has painted her house a beautiful crisp collection of grey based neutrals. She was having none of it. She likes the clean lines of greys and stone shades. But I think I may have convinced her otherwise. As a thank you for letting us use her kitchen, I bought her a bunch of ranunculus in a glorious orange colour. Once we had put them in a vase she had to admit that they really did enhance the room. Plus it gave me the opportunity to claim my first Summertime Scavenger Hunt picture of a 'bouquet'!
So I figure that I could have a lot to learn from the Summer of Colour and will be joining in. Week one involves spreading the word so please do click on the link and have a look. Last year Rinda made a collection of little houses in each colour scheme and they make a fab display. I'm trying to think of a way to incorporate a bit of sewing into it. I recently made a little origami bag and I'm wondering if I can use that as my medium. I have a week to decide!
Will you be joining in too?